Want to do something creative and unique for your Christmas, Hanukkah, or Season's Greetings cards this year?
Each custom family portrait drawing automatically comes with a high resolution .jpeg that is perfect for creating your own Holiday and Thank You cards. Get it printed as is, or add a personalized digital banner.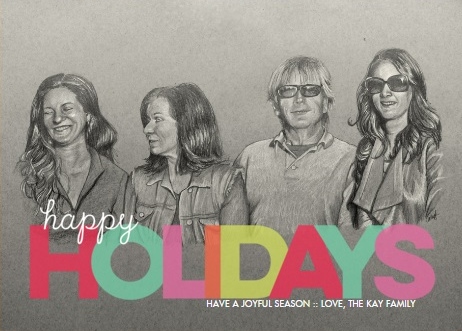 You can commission a fine art pencil portrait drawing for about the same price as hiring a photographer. Send in a photo of you all just hanging out and having fun... or send in last year's professional photos for a revamp this year! 
Childrens' Portraiture and Dog and Cat Drawings also make for great Holiday and Thank You cards! 
Bonus: In addition to getting your holiday cards finished, you can give the high quality finished portrait as a gift to a family member as an incredibly memorable and cherished gift, or decide to keep it yourself to show the family how much you think of them. Win-win!  
Commission your portrait within the next three weeks to make sure your cards can be mailed out the first week of December!
You can find lots of useful info on the FAQ page and can see plenty of examples in my Portrait Gallery and can then commission your own on the Purchase page.